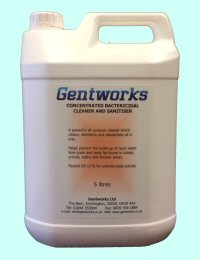 We receive more positive feedback about this product than for any other. It works brilliantly! Bactericidal Cleaner kills the harmful bacteria that cause bad odours. It is also very effective for dissolving stale urine, uric scale and body-fat deposits.
(Note: Packaging may differ from illustration.)
Dissolves urine
Kills bacteria
Removes scale and stains
Removes body fat from showers and swimming pool surrounds
Safe on chrome, stainless steel and other metal surfaces
Non acidic
Leaves a pleasant, lingering fragrance
One 5 litre container typically lasts 10 to 11 months for 1 urinal bowl fitted with a Gentworks or Aquafree UMD retrofit cartridge.
Cleaning of urinals:
Dilute 10:1, spray and wipe as with other cleaning fluids. Can also be used for
Floor cleaning
in 40:1 dilution.
Weekly dosing/sluicing of Aquafree UMDs:
Mix approximately 100ml of Gentworks Bactericidal Cleaner with 900ml of warm water, then pour over and around the dome of Urinal Maintenance Device, if fitted.
Dosing/sluicing of urinals fitted with GW6: Mix approximately 100ml of Gentworks Bactericidal Cleaner with 900ml of warm water, then pour into bowl and allow to drain. This is not essential but is recommended every 2 to 4 weeks as an aid to preventing blockages.
Sluicing during maintenance of
Aridian, Falcon and Uridan urinals:
When a Falcon cartridge needs changing, or a Uridan trap needs maintenance, we recommend that the urinal is sluiced with 300ml of Gentworks Bactericidal Cleaner with 2700ml of warm water - 3 litres of solution in total. This will help to break down any uric scale, fats, hair and debris in the waste pipes and flush it all through to the main drain.
IMPORTANT:
We recommend that you only sluice Armitage Shanks/Ideal Standard Aridian, Falcon or Uridan urinals after the cartridge/outlet has been removed, for example, when the cartridge is changed or cleaned out. These urinals use an oil-based sealant to prevent odours which can be washed away if sluiced with Bactericidal Cleaner. WE RECOMMEND THAT YOU DO NOT SLUICE WITH BACTERICIDAL CLEANER WHILE CARTRIDGE IS IN PLACE UNLESS IT IS A
GENTWORKS UMD, AQUAFREE UMD
or a
GW6
.