Gentworks has been providing environmentally friendly solutions for gents' washrooms since 2001. We opened our online shop for sanitary ware and accessories in 2005. This website, dedicated to our waterless urinal products and services, was launched in 2008.
Waterless urinals: save water, save money, save the environment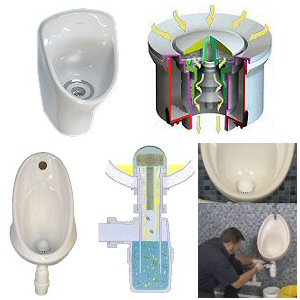 We supply waterless urinal systems so you can save water and save money. They'll also help you reduce maintenance problems, reach government or business targets for consuming less water, and look after the environment at the same time.
If you have urinals, you'll know that flushing them can use more water than anything else on site. But you have a dilemma:
if you flush constantly, the urinal may not block but you'll have a big water bill
if you flush less, the urinal will smell and block frequently and you'll have big maintenance bills
With Gentworks waterless urinals, you can stop flushing without any unpleasant or costly side effects. They'll help you:
save up to 75% on maintenance costs

reduce your water bill by as much as 50%*
The actual amount will depend on how else you use water on the site.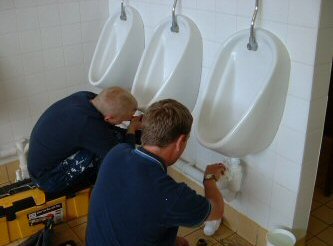 When you work with Gentworks:
You'll get expert advice: we've been working in this area for more than 17 years.
You'll get what's best for you: we'll talk to you and find out all we need to know about your urinals, from how much they're used to the pipework configuration . It may take more than a single product or maintenance regime, but we'll recommend what we think will work for you.
You'll be well looked after: we have an excellent reputation and we'd like to keep it that way. So we're constantly improving our internal systems and procedures and developing our expertise to make sure we give you the best service. We're an independent private company and since most of our long-standing employees are shareholders, we really do care about keeping our customers happy.
You'll be in safe hands: we're used to handling large sanitary ware projects for orders of £50,000 or more (although we're equally happy supplying single products if that's what you need). To give you complete peace of mind, we're accredited by Safecontractor, with £10m insurance cover for product and public liability.
Who we work for
We have many satisfied clients in business, education and government. They include Canary Wharf Management, Coleg Gwent, Leeds City Council, Ricoh, Thames Valley Police and Unipart. But since no single client accounts for more than 3% of annual turnover, we can concentrate on giving every one of our clients an excellent service.
Find out more