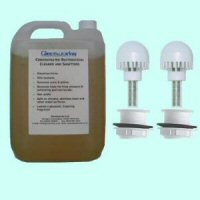 Standard kit for conversion and first 3 months of waterless operation includes:
2 X Aquafree Urinal Maintenance Device cartridges designed to dispense beneficial microbes and other active ingredients over a 3 month period.
2 X 38mm (1.5') special waste outlet fittings into which the cartridges are inserted. This waste outlet fits the vast majority of UK urinals. If you require a different size outlet, please select the appropriate one in the option box at the bottom of this page. If you find that you have ordered the wrong size, please call 0845 202 4535 for a free substitute.
1 X 5 litre container of Gentworks Bactericidal Cleaner concentrate to use for weekly dosing and regular cleaning.
Aquafree Urinal Maintenance Devices are simply retrofitted into existing pipework. They combat smells and blockages whilst eliminating the need for water. The contents of the standard Waterless Start-up Kits enable urinals to operate with no flushing for a period of 3 months, after which new
Aquafree cartridges
will be required. Microbes dispensed by the cartridges break down the uric acid salts and other contents of urine, while regular use of
Bactericidal Cleaner
helps keep the pipework free from body fats, hair and other debris.
How to Use Gentworks Bactericidal Cleaner:
Cleaning of urinal: Dilute 10:1, spray and wipe as with other cleaning fluids.
Weekly dosing: Mix approximately 100ml of Gentworks Bactericidal Cleaner with 900ml of warm water, then pour over and around the dome of Urinal Maintenance Device. (A 5 litre container typically lasts 10 to 11 months for 1 urinal bowl.)
Choose to buy supplies to last for up to 12 months after installation:
To take advantage of applicable volume discounts, you can choose to order enough cartridges and Bactericidal Cleaner to last for up to 12 months after conversion.