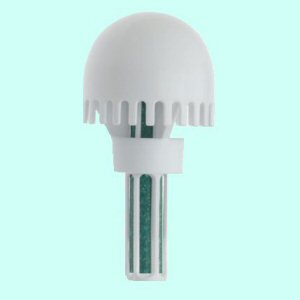 Aquafree replacement cartridges are available in the pack sizes of 1, 4, 12, 24 and 32 units. Please use the drop down below to select the pack size required. Note that cartridges supplied have a shelf-life of approximately 15 months.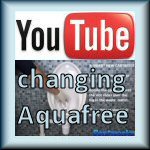 Aquafree Urinal Maintenance Device cartridge
designed to dispense beneficial microbes and other active ingredients over a 3 month period.
Aquafree cartridges should be changed every 3 months. To do this, wearing suitable gloves, simply pull vertically the used cartridge out for disposal and insert the new replacement cartridge. The cartridges combat smells, blockages and, of course, water consumption. The contents of the cartridge are designed to break down urine and prevent odours. However, they are not able to break down hair and other debris likely to enter the waste pipes. So,
it is essential to "dose" the urinal weekly -
a very simple task. For each urinal, mix 100ml of Gentworks
Bactericidal Cleaner
with 900ml warm water from the washroom hot tap. Pour the resulting 1 litre of diluted solution over and around the head of the cartridge. There is no need to remove the cartridge before doing so.
Most odour problems result from poor cleaning practices. The urinal should be cleaned regularly with Gentworks
Bactericidal Cleaner
(same dilution as for dosing), Gentworks
Bio-Blue
or another neutral cleaning product.
Cleaning products containing acids, strong alkalis and bleaches must not be used
as these will kill the active ingredients contained in the Aquafree cartridge and may lead to odours and blockages.